NCAA Final Four coaches: Who's the highest-paid?
The 2014 NCAA Final Four, which kicks off April 5 at 8:30 pm with the Wisconsin Badgers taking on the Kentucky Wildcats. The coaches for Wisconsin, Kentucky, Florida, and Connecticut have earned handsome bonuses for getting their teams this far, on top of their already generous salaries. But which coach is making out the best? Read on for the four coaches' salaries ranked lowest to highest, plus information on bonuses and revenues for the NCAA tournament at large. Can you guess which team's coach won the salary game?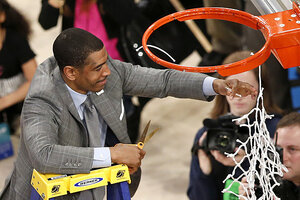 Julio Cortez/AP/File
4.

UConn Huskies

Coach: Kevin Ollie

2014 Base compensation: $1.25 million ($400,000 base salary plus media/speaking engagements)

Final Four bonus: $33,000 (or one month of his base salary)

Maximum bonus: $309,999

A former NBA player, Kevin Ollie was hired by the Huskies in the fall of 2012 and given a five-year contract extension a few months later. In addition to bonuses received for Fian;He also makes an extra month's salary for each time for winning a regular season conference championship, a conference postseason tournament, making the NCAA tournament, reaching the Sweet 16. He gets two months' extra salary for winning a national title, and an extra half months' salary for being named conference or NCAA Coach of the Year. Most top-level college coaches have similar deals; the "Maximum bonus number is what a coach would get for meeting every incentive in his contract.

This marks Ollie's first Final Four appearance; the Huskies were banned from the NCAA tournament in 2013 because of a poor academic record.

The high pay of college coaches and the billions of revenue generated by college sporting events like March Madness have come under intense scrutiny in recent years. Critics argue that it has become unfair for the NCAA, which makes billions off television deals and sponsorships for such events, to continue not paying players and maintaining strict control of their likenesses, preventing them from signing endorsement deals or making any outside money off their efforts. Mark Edelman, a law professor, suggested in Forbes recently that a fair wage for a player in the NCAA tournament is $340,000, given how much money they generate.

The idea that amateurism in college sports is unethical is gaining legal steam. Last month, a National Labor Relations Board official ruled that football players at Northwestern University are employees, not student athletes, and they have the right to unionize, if they choose. In February, a judge allowed a class-action antitrust lawsuit brought on by former UCLA player Ed O'Bannon over the use of his likeness in things like video games, to go to trial. The NCAA is fighting both cases.