Top 10 well-paying part-time jobs
Employers have sought more part-time and temporary work in recent years to keep costs down. Although there are challenges, some workers prefer part-time work because it allows for more flexibility. According to a study by CareerCast, these 10 jobs pay well and require less than 35 hours a week. Here, we list them by hourly wage, from lowest to highest. Can you guess which part-time job pays the best?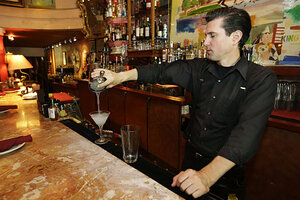 Ted S. Warren/AP/File
10.

Bartender

Bureau of Labor Statistics (BLS) median hourly wage: $9.09

Projected growth by 2022: 12 percent

Though the base pay is low, tips can add up. Bartenders can work off-hours, which allows for the option of a second job, according to CareerCast.

The American labor force has steadily shifted from full-time employment to part-time and free lance work. These types of jobs can bring flexibility but they also bring insecurities.

"While most people would rather have a full-time job with salary and benefits, steady part-time work and temporary assignments are good ways to generate income during slow hiring periods," Tony Lee, publisher of CareerCast, said in a press release.

Temporary jobs can be great for professionals with experience in a specialized field who want to work full-time but for limited periods, according to CareerCast.