What is a CSA? A food desert? Six 'urban agriculture' terms explained
Do you know the difference between a CSA and a co-op? How about what truly constitutes a 'food desert?' Urban agriculture, defined as 'the growing of plants and the raising of animals within and around cities' by the Food and Agriculture Organization of the United Nations, has been gaining ground in metropolitan areas and cities across the world. But what does urban agriculture actually entail? It is more than just having a rooftop garden or purchasing locally-grown food. There are several terms that get tossed around with urban agriculture – from CSA to foodscaping – and they can be confusing. Here are six of them, explained.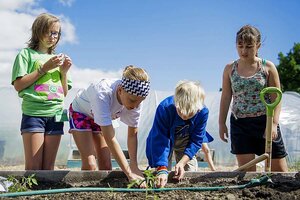 Kristin Streff/The Journal-Star/AP
1.

Foodscaping

Foodscaping is a gardening practice that makes people's home landscapes edible. For example, homeowners may incorporate more edible plants into their entire yards instead of relegating them to small garden plots. Many businesses are also taking up foodscaping, making fruits, vegetables, and herbs as part of their curb appeal.

The practice itself has turned into a business. One company, Nashville Foodscapes, designs, implements, and maintains foodscapes for its customers, according to the business's website. For one customer's yard, Nashville Foodscapes put in a fruit tree, a herb spiral, edible dogwood, and other edible plants.

Foodscaping is a fairly new trend. Many attribute the economic downturn in 2008 to the rise of combining farming and landscaping in homeowners' efforts to save money, according to NPR. But with that said, this uptick may be different. Although foodscaping increases for families during recessions, it has become trend to grow your own food, National Gardening Association researcher Bruce Butterfield told NPR in 2012.