Black Friday 2014: Your complete step-by-step guide
Black Friday, the biggest and most-hyped shopping holiday of the year, is approaching faster than ever. Really – most stores now open on Thanksgiving, and many reserve their best deals for Thursday. But whether you're heading out to shop Thursday, Friday, or skipping the crowds altogether and shopping online, our friends at DealNews.com are here to help you get the most out of Black Friday 2014. Browse this complete, step-by-step guide for tips on store hours, where to find the best prices on certain items, Cyber Monday and much, much more.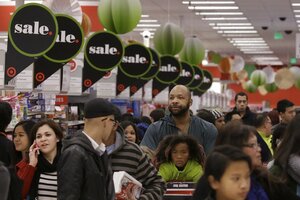 Jeff Chiu/AP/File
1.

Black Friday store hours: When everything opens (and closes)

With major retailers like Best Buy, Macy's, and Walmart set to open at 6 pm on Thanksgiving this year, it looks like "Black Friday Creep" is edging ever closer to absorbing Thanksgiving.

Every year, the increasingly earlier opening times lead to an outcry from shoppers and media alike. But despite the annual complaints and consternation, the NRF reported that of the 139.4 million adult shoppers that visited stores over the 2013 4-day weekend, an estimated 14 million started on Thanksgiving day. Basically, we hate that we love Black Friday now starts a day early.

But is heading to the mall on Thanksgiving worth foregoing the turkey coma and the lull of grandma's snoring? If saving money is your main priority, then the answer is a resounding "Yes!" We found that Thanksgiving Day has 29% more Editors' Choice deals than Black Friday. In fact, Thanksgiving Day 2013 saw seven times as many Editors' Choice deals than an average day in November. In summary: you might want to go easy on the sweet potatoes and marshmallows this year.
Thanksgiving & Black Friday Store Hours 2014