10 Americans who are not only wealthy but charitable
Forbes released their 2015 Forbes 400 list Tuesday, ranking America's wealthiest individuals. The Monitor decided to take a look at which of these individuals donated the most to charity, based on the 2014 Philanthropy 50. So here we give you the 10 wealthiest and most charitable Americans, based on the percentage of wealth donated last year.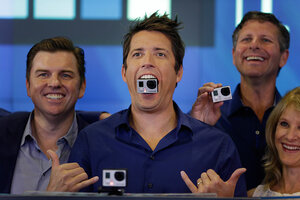 Seth Wenig/AP
1.

Nick Woodman

Founder and CEO of GoPro, the company that manufactures wearable sports and adventure cameras, Nick Woodman donated 28.6 percent of his worth last year. Mr. Woodman ranked #389 on the Forbes 400 with a net worth of $1.75 billion. Woodman donated $500 million to the Silicon Valley Community Foundation to start the Jill + Nicholas Woodman Foundation. The Foundation will focus on addressing education, affordable housing, transportation, and environmental issues.