Jobs picture improves, but there's still a long way to go
(Read article summary)
The job market is slowly getting better, but unemployment and underemployment remain very high.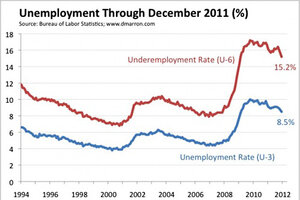 Source: Bureau of Labor Statistics
Friday's jobs data confirmed that labor markets are getting better, but slowly. Payrolls expanded by 200,000, the unemployment rate fell again to 8.5%, weekly hours ticked up from 34.3 to 34.4, and hourly earnings rose by 0.2%.
Of course, there is still a long, long way to go. Unemployment and underemployment both remain very high, but they've been moving in the right direction. After peaking at 10% in October 2009, the unemployment rate has declined by 1.5 percentage points. The U-6 measure of underemployment, meanwhile, peaked at 17.2% and now stands at 15.2%:
(The U-6 measures includes the officially unemployed, marginally attached workers, and those who are working part-time but want full-time work.)