US economic woes reflected in national security budget
(Read article summary)
High level military personnel are questioning the way US spends money on defense and national security.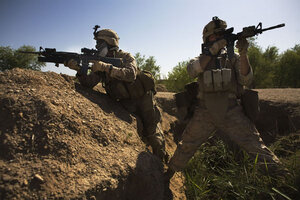 Dusan Vranic/AP/File
I've been in Newport, RI for the past couple days learning a lot about national security and defense spending–and talking about my perspective on the federal
budget outlook–at a workshop at the Naval War College on "Economics and Security: Resourcing National Priorities." I've been hanging around a small group of very senior military officers, ambassadors, and national security experts, and I've been learning a lot. The around 4000-word paper I wrote for the conference is called "The Way Out of the Fiscal Hole: An Economist Mom's Perspective." It is sort of a "best of EconomistMom.com" paper which I will share here once it's published–or perhaps even post excerpts from beforehand. But mostly what's been great about this experience is learning that just because someone is a high-up person in the military doesn't mean he or she doesn't question the wisdom of the way the U.S. spends money on defense and national security or the federal budget as a whole. There's a lot going on within the defense and national security budget that is really just a smaller version of the dysfunction within the federal budget and the U.S. economy as a whole. I hope to share some of what I learn here with my readers when I get back. (I'm here for one more day.)
Add/view comments on this post.
------------------------------
The Christian Science Monitor has assembled a diverse group of the best economy-related bloggers out there. Our guest bloggers are not employed or directed by the Monitor and the views expressed are the bloggers' own, as is responsibility for the content of their blogs. To contact us about a blogger, click here. To add or view a comment on a guest blog, please go to the blogger's own site by clicking on the link above.