2014 Chevrolet Camaro SS to debut at New York Auto Show
(Read article summary)
Drivers got a tease of the 2014 Chevrolet Camaro SS Wednesday, scheduled to debut at the New York Auto Show next week. Model refreshes can be a mixed bag, Ireson writes, but with the Chevy Camaro, it's hard to know what to expect.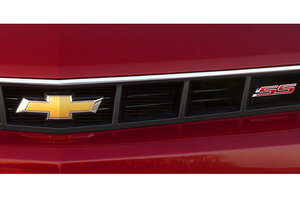 Courtesy of GM
Model refreshes are a mixed bag--sometimes exciting, sometimes rather disappointing. With the Chevy Camaro, we don't know what to expect--but this is our first hint.
This is the first glimpse of the redesigned 2014 Chevrolet Camaro before it makes its global debut at the 2013 New York Auto Show.
Shown in SS trim, the bowtie badge, SS badge, and a slice of the hood, grille, and front bumper all look rather a lot like the current car. The most notable difference is the grille, which goes from a simple grid layout to a series of vertical bars with inset twin horizontal elements.

Recommended:
Car logos quiz
Chevy says the 2014 model will be the most significant change in the fifth-generation car's run, which makes sense--it's the first full refresh since the car's debut in 2009.
The full details, including photos and specifications, will be revealed at the Javits Center in New York City next Wednesday, at 12:45 p.m. EDT.