VW shows new Golf in New York. No US sales till next year.
(Read article summary)
VW brought its Mark VII Golf to the New York auto show, which are already sold in Europe and will be available next year in the US. The 2015 VW Golf will be longer, wider, and lighter than its predecessor.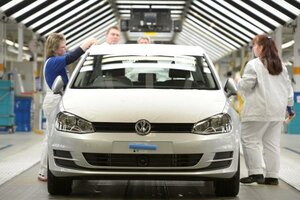 Fabian Bimmer/Reuters/File
American consumers will need to wait until next year to buy a 2015 Golf or GTI at their Volkswagen dealer, but New York AutoShow attendees can see the Mark VII models in the flesh (or in the sheet metal, actually).
Volkswagen's latest Golf models will use the modular MQB platform, and North American inventory will be assembled at the brand's newest factory, in Silao, Mexico.
Though the Mk VII Golfs have already debuted in Europe (excluding the GTI, which will drop in May), the delay in North America is due to the ramp-up time needed to get the Mexican plant functional.

Recommended:
Car logos quiz
The 2015 Volkswagen GTI will come to market in a longer, wider, lower and lighter form than its Mk VI predecessor. The 51 pounds of weight savings (shared with the Golf) and lower coefficient of drag should help with the new GTI's acceleration, handling and braking, too.
Under hood, the new GTI model is powered by an updated version of Volkswagen's EA888 four-cylinder engine. It's eight pounds lighter, but retains its 2.0-liter displacement and turbocharging for an expected output of 210 horsepower and 258 pound-feet of torque.
GTI buyers will again be able to choose between a six-speed manual transmission and a DSG dual-clutch automated gearbox, and Volkswagen says the European Performance Pack announced for the Mk VII GTI will make it to these shores, too.
All 2015 GTI models will use the XDS electronic differential lock, developed for the current Mk VI GTI. The system uses electronic sensors to detect wheel slip, then brakes the slipping wheel to transfer torque the the opposite site, ensuring maximum grip under all conditions.
The Mk VII GTI will get progressive steering, with a new steering rack and a higher-torque electric motor. The steering rack uses teeth of different pitches to provide a reduce effort at maximum lock, while delivering the best feel just off center.
Inside, the new GTI and Golf are even roomier than the models they replace, and VW says that driver ergonomics have been improved, too. We expect that the GTI's Audi-esque interior will return, based on the images of the European models we've seen to date.
If your tastes run to the more sedate Golf models, the range will include aturbocharged 1.8-liter engine rated at 170 horsepower and 184 pound-feet of torque, as well as a 2.0-liter TDI turbodiesel, rated at 150 horsepower and 236 pound feet of torque. Gone from the lineup is the 2.5-liter five-cylinder used in current base Golf models.
All Mk VII Golf models (including GTI) come with six airbags and VW's Automatic Post-Collision Braking System, which automatically applies the brakes following a collision to reduce residual kinetic energy. The system can be over-ridden by the driver, via heavy braking or via acceleration.
Look for more details on performance and pricing to be released closer to the 2014 launch of the 2015 Golf and GTI. We'll bring you live images of the new models as part of our complete New York Auto Show coverage.