2014 Audi SQ5 priced from $52,795
(Read article summary)
The 2014 Audi SQ5 will go on sale later this summer, hoping to hold its own against sporty competitors like the BMW X3 and the Mercedes-Benz GLK Class. The car boasts 354 horsepower and 347 pound-feet of torque output.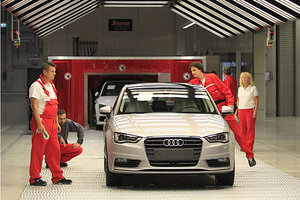 Laszlo Balogh/Reuters/File
The 2014 Audi SQ5, Audi's first crossover to wear its sporty S label, has been priced from $52,795, including an $895 destination charge.
The vehicle will be available for sale later this summer where it will go up against the likes of the BMW X3 and Mercedes-Benz GLK Class.
However, the Audi stands apart thanks to its 354 horsepower and 347 pound-feet of torque output. That potent output is derived from a supercharged 3.0-liter V-6 and is channeled to all four wheels via an eight-speed automatic transmission.

Recommended:
Car logos quiz
According to Audi, the SQ5 needs just 5.1 seconds to accelerate from 0-60 mph and can easily reach its governed top speed of 155 mph.
Those numbers make the SQ5 the fastest and most powerful model in its segment.
The vehicle also gets a host of goodies as standard, including 20-inch wheels (21-inch wheels are offered), leather and Alcantara trim, and aluminum accents inside and out.
In addition to the high-performance SQ5, the 2014 Audi Q5 lineup also sees the addition of the Q5 TDI model. For pricing on this model, plus more of Audi's 2014 range, click here.