Land Rover Range Rover Sport: zippy, powerful, and slim
(Read article summary)
The sport version of the 2014 Land Rover Range Rover has a powerful engine and is 800 pounds lighter than its predecessor. It's a standout option for those looking for sporty SUVs, Padgett says.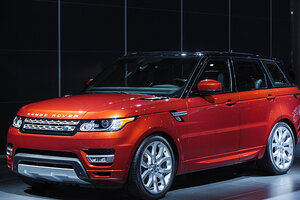 Lucas Jackson/Reuters/File
It's new for 2014, and though the Land Rover Range Rover Sport looks familiar, the scope of change it brings is pretty vast. A better off-roader than ever, it's also quicker than ever, more deft on pavement, and more finely rendered.
For the rest of this story, click here.
Compare SUVs & Crossovers - You do not have permission to view this object.