2014 Mini Cooper: bulkier, safer, and a new platform
(Read article summary)
2014 Mini Cooper will go on sale in March, but only in three-door, hardtop version. Convertible and other variants will be released later. New 2014 Mini Cooper will come with a new generation of engines.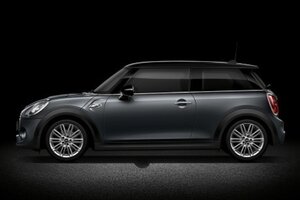 Courtesy of MINI Cooper
The third generation of the modern MINI Cooper has finally been revealed, with the launch coinciding with the 107th anniversary of the birth of Sir Alec Issigonis, the designer of the original Mini. The car has been completely redesigned and debuts a new platform dubbed "UKL" which will eventually underpin a handful of new models from MINI as well as some from parent company BMW.
The new MINI Cooper goes on sale in March 2014 but only this three-door 'Hardtop' variant will be new for the 2014 model year. Replacements for the current Cooper Convertible, Cooper Clubman and Countryman are all planned but will be released in upcoming model years. (ALSO SEE: Mercedes-Benz AMG Vision Gran Turismo Concept Revealed)
The latest evolution of the iconic design signals the more mature character of the new model, reflected by the car's bulkier size, new safety features and improved quality. A new generation of engines is also offered, along with some upmarket features such as the MINI Connected infotainment system, new LED headlamps and head-up display.

Recommended:
Car logos quiz
Overall length is 151.1 inches while the width is 68 inches and the height is 55.7 inches. This makes it 4.5 inches longer, 1.7 inches wider and 0.3 inches higher than its predecessor. The wheelbase has been extended by 1.1 inches to 98.2 inches, while the track width has been enlarged at the front by 1.7 inches and at the rear by 1.3 inches to a total of 59.1 inches in each case. This has allowed designers to increase space; storage is now 8.7 cubic feet, 3 cubic feet more than before. There are also numerous cubby spots and a 60:40 split function for the rear seat.
The interior design sticks with MINI's signature round clusters but there are some changes. Road speed and engine speed along with other key driving-related information is now shown in an instrument cluster on the steering column. The characteristic central instrument with an optional color display of up to 8.8 inches in size is used to provide feedback on operations performed using a MINI Controller dial in the center console as well as giving visual feedback on driving condition and on numerous functions activated by the driver. (DON'T MISS: 2015 Nissan GT-R NISMO Leaked: 595 HP And 7:08.69 'Ring Time)
For performance fans, new MINI Driving Modes allow an individual setup involving not just the characteristic curve of the accelerator and steering but also engine acoustics, and in the MINI Cooper S ambient lighting, the shift times of the automatic transmission and the characteristics of a new Dynamic Damper Control suspension system. The car maintains a single-link spring strut axle design at the front and multi-link setup at the rear.
The MINI Connected infotainment system lets you stay connected to the outside world. It offers extensive integration of smartphones in the car, allowing the use of internet-based services in the areas of infotainment, communication and driver experience via apps for both Android and Apple operating systems.
Buyers can also expect some new safety features across the third-generation MINI family. These include the aforementioned head-up display as well as a backup camera, collision and pedestrian warning systems, a parking assistant and even a speed limit information system.
At launch, the available engines will be a 1.5-liter three-cylinder engine delivering approximately 134 horsepower and 162 pound-feet of torque (169 pound-feet with overboost function) and a 2.0-liter four-cylinder with 189 horsepower and 206 pound-feet of torque (221 pound-feet with overboost), the latter reserved for the sportier Cooper S trim.