Tax preparation twist: Help others. Skip your own.
Tax preparation expert accused of avoiding paying his own New York state taxes.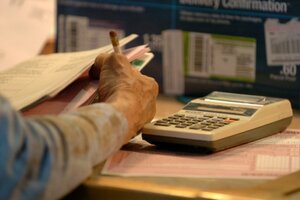 Bryan Smith/ZUMA Press/Newscom/File
Regulators say an accountant who owns several tax-prep businesses neglected to pay his own state taxes for six years.
The state Tax Department said Friday that 44-year-old Eric Fecci of Katonah, N.Y., has been charged with tax fraud and failure to file from 2003-2008. It said he filed his returns only after the department's investigation began.
If convicted, Fecci could be sentenced to up to four years in prison on each of four counts.
The department said Fecci also owes the state nearly $21,000 for other tax liabilities dating back to 2001.
Defense attorney William Aronwald would not comment.
The department said Fecci owned and operated several accounting and tax preparation businesses in Somers.