Tablets to replace textbooks? Yes, in Mandan, N.D.
Tablets will be the textbooks in three science courses at Mandan High School. The iPad tablets will appear in the fall as part of a pilot project.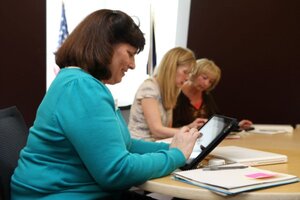 Joel Page/AP/File
Mandan High School is replacing textbooks with iPads for three of its science courses next year.
The Bismarck Tribune reports that the school district will buy 104 of the tablet computers for its ecology, physics and honors physical science classes.
Superintendent Wilfred Volesky says it's a pilot project, and officials think the science department is a good one to test the tablets. Students will have access to a wide variety of tools such as virtual labs, and they'll be able to submit assignments electronically.

Recommended:
Amazon tablet in the works: report
The project will cost just under $60,000.