Burger King ads: The king is dead. Long live the burger.
Burger King ads will no longer feature the chain's longtime spooky mascot, the King. The company will refocus Burger King ads on its burgers.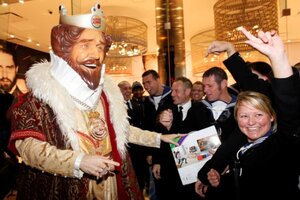 Jason DeCrow/AP Images for Burger King/File
The king is dead.
Burger King's spooky "The King" mascot is retiring so the struggling burger chain can refocus its marketing to reach new customers. The mascot has been around for years, but recently has become a more prevalent and somewhat creepy presence in ads - showing up in people's beds and peeping in their windows.
The fast food chain, which has suffered declining sales, will roll out a new advertising campaign this weekend sans "The King" that will focus on its burgers. The Burger King ads will be the first since the company switched advertising agencies in July.
"We won't be seeing The King for a while," a Burger King spokesman said.