Wall Street protests: On Day 3, seven arrests
Wall Street protests involve several hundred activists calling attention to links between financial firms and Congress. Organizers of Wall Street protests are posting videos of arrests.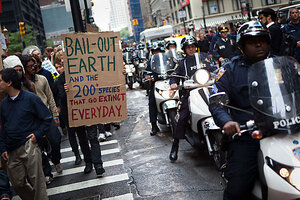 John Minchillo/AP
Police have arrested seven more people at an ongoing protest on Wall Street.
A New York City police spokesman said Tuesday that one of the seven suffered a minor leg injury while resisting arrest. He was treated by paramedics at a police station.
The seven were part of a group of a few hundred protesters who have gathered in lower Manhattan to target financial firms. They're challenging political connections between the firms and Washington lawmakers.
The arrests follow five made Monday near a protest area that police have set up outside the New York Stock Exchange. Most of those arrested have been given disorderly conduct summonses and released.
Organizers of the Wall Street protests have accused police of being too aggressive and posted videos of the arrests on the Internet.