Avocado thief: No jail, but unusual sentence
Avocado thief ordered not to possess more than 10 avocados at a time. Theft of 1,000 pounds of avocados was not avocado thief's first heist.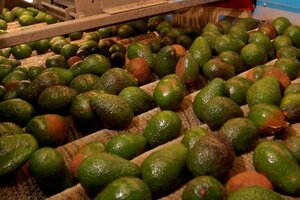 Denis Poroy/AP/File
An admitted avocado thief is reaping the fruits of his crime: He's banned from possessing more than 10 at a time.
Barron Stein of Fallbrook was sentenced Thursday for grand theft by a San Diego County judge.
Stein stole up to 1,000 pounds of avocados from a Bonsall grove in March. The haul was worth about $1,500.
The North County Times says the unemployed tow-truck driver claimed he was desperate to support his family. Security cameras caught him.
Authorities say he has a history of avocado thefts.
Stein wasn't given jail time but during his three years of probation he must avoid avocado groves without permission and can't possess more than 10 at a time. Violations will land him in jail for 180 days.