Target dress apology over garment color description
Target dress apology: The Minnesota-based retailer is drawing criticism for using an aquatic mammal to describe the color of a particular dress. The Target dress apology reportedly extends to their website as well.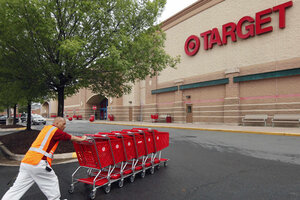 Kevin Lamarque/AP/File
Shoppers at a Target store in Brooklyn say a label that listed the color of a plus-size dress as "manatee gray" was insulting.
The label for the same dress in smaller sizes described it as "dark heather gray."
Target apologized for the label.
Michelle Ho, shopping at the store at Atlantic Terminal Mall, told the New York Post (http://bit.ly/16vmd9u ) that Target was "putting down one set of people over another" with the different labels.
Spokeswoman Jessica Deede called the labeling of the Massimo-brand "Women's Plus-Size Kimono Maxi Dress" ''an unintentional oversight."
She said although manatee gray was a seasonal color, Target was "fixing the discrepancy." She said the item was removed from the company website.