5 tons of Nutella stolen in Germany
5 tons of Nutella was stolen from a parked trailer in central Germany, police said. The 5 tons of stolen Nutella is worth an estimated 16,000 euros.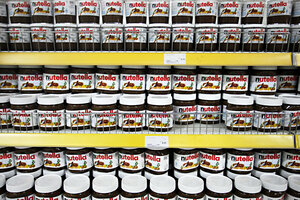 Dado Ruvic/Reuters/File
These thieves might really have sticky fingers.
Police said Monday an unknown number of culprits made off with 5 metric tons (5.5 tons) of Nutella chocolate-hazelnut spread from a parked trailer in the central German town of Bad Hersfeld over the weekend.
The gooey loot is worth an estimated €16,000 ($20,710).
Germans news agency dpa reported that thieves have previously stolen a load of energy drinks from the same location.