Warren Buffett offers $1 billion for perfect NCAA bracket
Warren Buffett and Quicken Loans will pony up $1 billion to anyone who can fill out a perfect bracket for the NCAA tournament this March. Registration for the 'Billion Dollar Bracket Challenge' will begin March 3.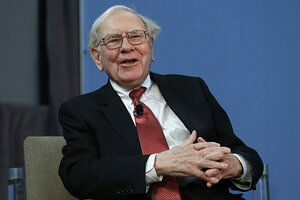 Rebecca Cook/Reuters/File
Correctly predicting the outcome of every game in the NCAA men's basketball tournament is no layup.
But there's now a $1 billion prize waiting for anyone able to pull off the feat this spring.
Quicken Loans announced Tuesday that it's teaming with investor Warren Buffett's Omaha, Neb.-based Berkshire Hathaway on the "Billion Dollar Bracket Challenge."
The Detroit-based mortgage lender says any qualified entrant who correctly predicts the winners of every game in the tournament will be paid in 40 annual installments of $25 million. A winner also can elect to receive an immediate $500 million lump-sum payment or share in that payment if there's more than one perfect bracket submitted.
Free registration for the contest will begin March 3 and run until March 19.