Commercial property catastrophe! Prices, supply, demand drop in Q4 2009.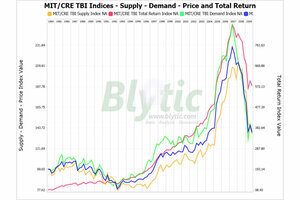 Blytic
The latest release of the MIT Center for Real Estate's Transaction Based Indices for commercial real estate indicated that prices declined 4.93% from Q3 to Q4 2009 remaining 22.53% below the level seen in Q4 2008.
Supply declined significantly dropping 5.33% between Q3 and Q4 2009 and remaining some 25.47% below the level seen in Q4 2008.
Demand also declined notably dropping 4.52% from Q3 to Q4 2009 and 19.49% from Q4 2008.
Taken as a whole the total return index declined 3.67% between Q3 and Q4 2009 remaining 18.11% below the level seen in Q4 2008.
Looking at the chart you can see that although there was a notable bounce in the middle of 2009, the decline as since resumed with each measure sitting close to the lows for the cycle.
Add/view comments on this post.
------------------------------
The Christian Science Monitor has assembled a diverse group of the best economy-related bloggers out there. Our guest bloggers are not employed or directed by the Monitor and the views expressed are the bloggers' own, as is responsibility for the content of their blogs. To contact us about a blogger, click here. To add or view a comment on a guest blog, please go to the blogger's own site by clicking on the link above.