US retail sales tick up in June
(Read article summary)
US retail sales rose 0.2 in June from May and are up 4.3 percent since last year, according tot he US Census Bureau. Sales of nominal 'discretionary items' such as home furnishings and consumers fell from May's levels but are higher compared to last year.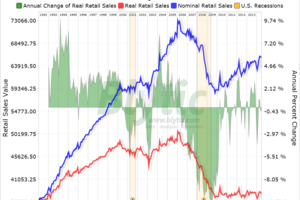 SoldAtTheTop
The US Census Bureau released its latest nominal read of retail sales  showing increasing activity in June with sales rising 0.2 percent from May and 4.3 percent on a year-over-year basis on an aggregate of all items including food, fuel and healthcare services. 
Nominal "discretionary" retail sales including home furnishings, home garden and building materials, consumer electronics and department store sales declined slightly, falling 0.31 percent from May but rising 1.73 percent above the level seen in June 2013 while, adjusting for inflation, "real" discretionary retail sales declined 0.48 percent on the month and falling 0.26 percent since June 2013.