Don't let these men's shoe deals run away
(Read article summary)
Spring is just around the corner and you need a pair of new kicks to welcome the warm weather. Check out these men's shoe deals to save a little money while searching for style.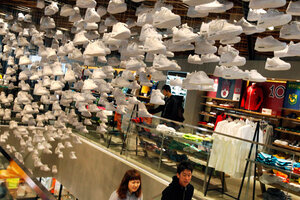 Shizuo Kambayashi/AP
Look, they've had a good run, walk, and/or skip. But now they're just holding you back. Face it man, it's time to put your old shoes on the bench. To help Team You move on, we've scouted some fresh talent in this week's best men's shoe deals. Score a pair of Nike running shoes at their lowest price since Black Friday, get some Quicksilver shoes for just $18, or grab two pairs of Converse sneakers at $23 off list.
Marcy Bonebright is a features writer for Deal News where this article first appeared: http://dealnews.com/features/best-shoe-deals/