Cronuts at Jack in the Box? Not quite – meet the croissant donut.
(Read article summary)
Jack in the Box is adding a breakfast item to its menu: a croissant donut. It isn't the famous cronut from a popular New York bakery, but the croissant donut from Jack in the Box is close.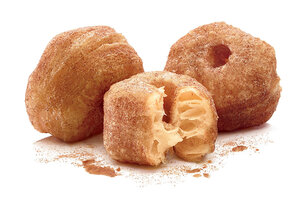 Jack in the Box
No, these aren't the Cronuts that New York City pastry chef Dominique Ansel dreamed up last year. These are Croissant Donuts , the new breakfast item from Jack in the Box.
Served hot and dusted with cinnamon sugar, Croissant Donuts are, according to the chain's release, "the perfect pop-able, portable and sharable breakfast for those on-the-go. Combining the sweetness of a donut with the buttery flakiness of a croissant." The LTO tidbits, tested earlier this year, are 89 cents apiece or three for $1.99.
And no, those aren't Chipotle burritos. Those are Jack in the Box's bigger breakfast burritos, now wrapped in foil. The two new varieties are The Grande Sausage Breakfast Burrito with eggs, sausage, hash browns, bacon and a new creamy Sriracha sauce. The Meat Lovers Breakfast Burrito (right) has the trinity of breakfast meats: sausage, ham and bacon. Both are wrapped in large tortillas and served with a side of salsa. Suggested intro price is $3.29.
In June, Jack in the Box expanded its 24-hour breakfast menu lineup with the addition of a Breakfast Monster Taco (an oversize tacos topped with scrambled eggs, two half slices of American cheese and taco sauce).