'Fify Shades of Grey' burger comes to the UK
(Read article summary)
A 'Fifty Shades of Grey' burger, called 'Fifty Shades of Meat,' has emerged at a burger bar in Devon. It's the second 'Fifty Shades of Grey'-inspired sandwich to come out of the United Kingdom in the past month.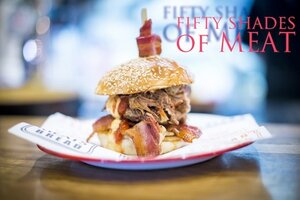 Scott Hume
Are we losing our burger mojo? America used to be on the cutting edge of novelty burgers, yet here comes a second UK burger playing off the awful "Fifty Shades of Grey" buzz. The Custom House in Barnstaple, North Devon, last month offered up the "15 Shades of Bacon" burger. The £15 ($23) tab got you a 2,500-calorie burger with15 types of bacon (including prosciutto, pancetta, turkey bacon, chicken-fried bacon and more) plus bacon-flavored-mayo-infused cream cheese and bacon-dusted fries.
Bread Meats Bread in Glasgow, Scotland, rightly believed it could do better. The result is the "Fifty Shades of Meat" burger. The build: Double helpings of pork sausage patties, topped with Ogleshield cheese and slow-cooked BBQ pulled pork, vanilla-candied bacon, grilled Nurnberg bratwursts smothered in Honey Apple Ketchup and a drizzle of 'Nduja (spreadable Italian pork sausage) aïoli. Maybe not 50 shades, but enough. Is your burger bar's riding the "50 Shades" bandwagon?