McDonald's rejects Burger King's 'McWhopper' bid for peace
(Read article summary)
Burger King proposed teaming up with McDonald's to promote world peace, complete with a 'McWhopper,' burger to be made available at a one-day pop-up restaurant. McDonald's declined the offer Wednesday morning.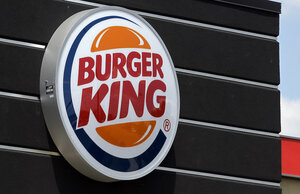 Michael Conroy/AP/File
The International Day of Peace, September 21, might have been the date for a ceasefire of one of the greasiest wars in history – the "burger war" between Burger King and McDonald's.
Burger King extended an olive branch to McDonald's Wednesday, proposing a collaboration between the two chains complete with a new peacetime burger, the "McWhopper." The effort was pitched as a way to raise money to promote world peace. 
With a flashy new website, full-page ads on The New York Times and The Chicago Tribune, and, one would imagine, a large Whopper scepter, "Burger King," detailed a joint, one-day venture on the streets of Atlanta. A pop-up restaurant serving a combination of the Whopper and Big Mac would be established. Burger King went as far as to create a possible recipe for the "McWhopper" containing an even division of ingredients from both the Big Mac and Whopper. The final product would have a combination of patties and utilize the Big Mac's secret sauce.
Burger King's efforts to display their willingness to compromise and sense of diplomacy went all the way down to the details. From the "McWhopper" recipe to the custom uniforms, nearly everything appears to be an even split. Even the location, Atlanta, was chosen as a half-way point between the two corporate headquarters. Proceeds would be donated to Peace One Day, a nonprofit group that aims to make an "annual day of global unity."
Peace One Day has been working since 1999 to ensure the International Day of Peace is recognized across the globe. Jeremy Gilley spoke about the project on Burger King's proposal video, saying "It leads by example and demonstrates a genuine commitment to Peace Day…."
McDonald's CEO and arguably the most powerful man in the burger world, Steve Easterbrook, responded via Facebook Wednesday morning. The response was vague, but a definite rejection of the McWhopper, with Mr. Easterbrook stating: "We love the intention but think our two brands could do something bigger to make a difference." His note ended with the admonition that "a simple phone call will do next time." 
For many who grew up in America, McDonald's response to Burger King is not surprising. The rivalry between the two companies has often been intense since both burger chains entered the national market in the mid-1900s. McDonald's Corporation founder Ray Kroc once said of his competitors, "If they were drowning to death, I'd put the hose in their mouth."
However, with the recent slip in sales for both companies – Burger King only recently regained its number two spot for burger sales from Wendy's and McDonald's just reported a 10 percent drop in quarterly sales – maybe things are changing.
The McWhopper campaign is in tatters, but it ended with the potential for peace. Easterbrook's post invited Burger King to join McDonald's in a "meaningful global effort," to raise awareness. If Burger King and McDonald's can put aside their differences and reach across the grill for peace in a different way, there might still be hope for the rest of the world. Perhaps NATO and Russia, Israel and Hamas, and North Korea and the world will follow their example.