Is Mexico's soda tax working?
(Read article summary)
Mexico has the world's highest rate of adults diagnosed as overweight or obese. But a tax on soda that was passed in 2014 may help curb this issue.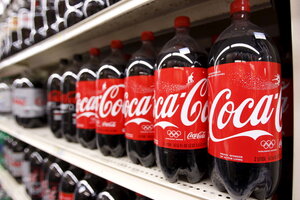 Lucas Jackson/Reuters/File
Mexico has the highest rate of overweight or obese adults in the world, and an estimated 10 million Mexicans have diabetes, doctors say. The country also happens to have the highest per capita consumption of soda, amounting to 70 percent of the total added sugars consumed by the average Mexican, according to a report in The New York Times. Recent research reveals that the Soda Tax passed into law in 2014, may reduce the consumption of sugar-sweetened beverages in the country.
Mexico's "soda tax" was passed in 2014 as part of a larger effort to lower the rate of obesity and the occurrence of diabetes in the country. Under the legislation, sugar-sweetened beverages (except milk and yogurt) are subject to a tax of 1 peso per liter.
Researchers from the University of North Carolina at Chapel Hill and the Mexican National Institute of Public Health looked at purchasing patterns in more than 6,000 households in 53 large cities, publishing their findings earlier this month in the journalBMJ. Researchers identified a 6 percent decrease in the sale of sugary beverages in 2014, which gradually climbed to 12 percent by December 2014. Lower socio-economic groups showed the highest decrease in consumption, at 17 percent, but purchases went down among all socio-economic groups. There was also a 4 percent increase in bottled water sales.
The International Business Journal reports that Mexico's largest soft drink bottler, Coca-Cola Femsa, saw a 6.4 percent drop in sales in the first six months of 2014, while Arca-Continental, another Coca-Cola bottler in Mexico saw a 4.7 percent decrease in the first half of 2014, compared to that period in 2013.
The success of the soda tax may just be part of a growing trend toward healthier eating and more conscious consumption. A Gallup poll in August 2015 in the United States showed that at least 6 in 10 adults are trying to steer clear of soda in their diets, and about half of those surveyed were avoiding sugar and fat. If the soda tax in Mexico continues to show reduced levels of consumption, other countries could seek to pass similar legislation, and consumers around the world may be less and less likely to turn away.
According to the Organization for Economic Co-Operation and Development (OECD), Mexico is not the first country to introduce taxes on food and non-alcoholic beverages to increase public health. France, Finland, and Ireland, to name just a few, have introduced legislation aimed at lowering consumption of foods high in fat or sugar. These measures meet controversy and powerful lobbying from industries.
Adweek reported that Mexico was Coca-Cola's top consumer market based on per capita consumption and the second-largest region in sales volume in 2014. Coca-Cola was at the forefront of the lobby against the soda tax in Mexico, which became so contingent that the main television outlets would not run ads in support of the soda tax.
The New York Times report said that the soda tax was well-received by the public largely in part by the Bloomberg Foundation, which invested $10 million in an advertising and educational campaign as part of its 10-year commitment to reducing obesity in Mexico.
Nations around the world are on the edge of their seats, waiting to see how Mexico's soda tax will weather before introducing or rejuvenating taxes like this on the home front.
In Fall of 2014, Berkeley, California, residents passed the first soda tax in the United States, but a Cornell-University of Iowa study found that for Coke and Pepsi, only a fraction of the tax was passed on to consumers, effectively thwarting the impact of the measure in reducing the purchase of sugar-sweetened beverages. A similar beverage tax was on the ballot and failed, in San Francisco that same year, after the American Beverage Association waged a $7.7 million campaign against the measure.
This article first appeared at Food Tank.