The Federal Reserve's new and improved transparency
(Read article summary)
The Fed met today to discuss possible further reforms. But how will the new kinder, gentler and allegedly more transparent Fed communicate to the public this momentous decision?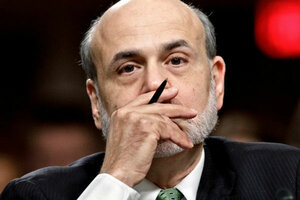 J. Scott Applewhite/AP/File
According to Bloomberg's survey of economists, 58 percent believe that the FOMC will announce an extension of Operation Twist at the end of its meeting at 12:30 pm today.  The majority expect the Fed to extend the maturity of its securities portfolio by substituting the purchase of long-term securities, possibly even more mortgage-backed securities, as its short-term securities mature in order to further depress long-term, especially mortgage, interest rates.  This alternative would not expand the money supply, but merely further distort credit markets. With the US inflation rate near its 2-percent "anti-deflationary" target and the break up of the euro at least momentarily averted by the results of the Greek election, 60 percent of the survey's respondents do not foresee the implementation of the more radical stimulus of a third round of quantitative easing, which involves the expansion of the Fed's balance sheet and the money supply through the net purchase of additional securities.
But how will the new kinder, gentler and more transparent Fed communicate to the public this momentous decision?  Will it do so frankly and in plain language?  Right! According to a senior economist at Bank of America Corp. in New York, "The FOMC in its post-meeting statement could voice more willingness to buy [long-term] bonds if necessary, saying that it 'stands ready' to adjust its balance sheet rather than that it 'is prepared' . . . ."