Wealth and the aggression factor: What makes a successful mogul?
(Read article summary)
Wealth and aggression have been anecdotally linked before in discussions about what makes a successful businessman. But a new article in New York Magazine attempts to bring a more scientific approach to the debate.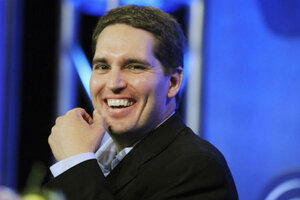 Phil McCarten/Reuters/File
Do you have to be aggressive and selfish to make it in America?  How much of your success is a result of your upbringing and the right learned behavior?  How much is genealogical?  How much of it is simply due to the social class you were already raised in?  And when you've made it, how different does your personality become?  Are you likely to become less humane or even less human?
This weekend's must-read is a feature story in New York Magazine that seeks to answer these questions or at least to frame the debates with some kind of scientific underpinning...
T. Byram Karasu, a psychiatrist at Albert Einstein/Montefiore Medical Center who treats wealthy clients, believes all very successful people share certain fundamental character traits. They have above-average intelligence, street smarts, and a high tolerance for anxiety. "They are sexual and aggressive," he says. "They are also competitive with anyone and have no fear of confrontations; in fact, they thrive on them. And in contrast to their image, they are not extroverted. They become charmingly engaging when needed, but in their private world, they are private people." They are, in the parlance, all business.
I'm fascinated by this stuff and I come across all kinds of contradictory examples of how affluent people behave versus how you'd expect them to behave each day.  You probably do too and these episodes likely have you constantly re-evaluating your beliefs on this topic.
Make some time for this over the weekend.