These are best jobs in America for 2016
(Read article summary)
Job placement firm Glassdoor has released its annual list of the best jobs for 2016. What do some of the top jobs have in common, besides salary?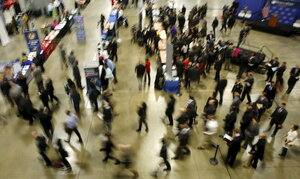 Gary Cameron/Reuters/File
Looking for a new career? Consider being a data scientist. 
Glassdoor, a job-placement company, has released its annual list of the best jobs for 2016. The company regularly makes reports about hiring trends in order to help that 45 percent of the population that is either in the throes of looking for a new job or planning to start searching soon.    
In terms of which industries are experiencing the most rapid growth and change, the list reflects larger industry trends across America. According to the Bureau of Labor Statistics (BLS), healthcare, management, technology, and financial services will be among the fields that will be hiring the most in the next ten years. Jobs in the healthcare industry are projected to grow by as much as 4.8 percent. Jobs in technology and management will expand by an estimated 2.3 and 2.4 percent, respectively.
Glassdoor's methodology looks at the median annual base salary for each job, the number of current job openings for each position, and each job's score in terms of how they rank for career opportunities based on anonymous employee ratings. In order to be eligible for consideration, jobs had to have at least 75 salary reports and 75 career opportunities ratings shared from employees on Glassdoor over the past year.
Glassdoor's number-crunching placed data scientist at number one, tax manager at number two, and solutions architect (a type of software engineer that provides customer-facing solutions) at number three. Reflecting the healthcare industry's rising hiring dominance, physician-assistant jobs clock in at number seven on the list.
"It isn't a big surprise to see data scientist at No. 1 this year because it's one of the hottest and fastest growing jobs we're seeing right now," Dr. Andrew Chamberlain, Glassdoor's chief economist, explained to Business Insider. "Since all companies have an online presence these days, they all need people who know how to manage and store data that helps them make better business decisions… I expect this to continue to be a hot job for several years to come, too."  
At the same time that these jobs are either beginning or continuing to dominate companies' hiring priorities, however, other industries are shrinking. The BLS projects that manufacturing jobs in all fields, including communications and apparel, will decline by as much as 2.9 and 5.9 percent, respectively. Jobs in publishing and newspapers are also projected to decline by as much as 2.8 percent by 2024.
Those trends are apparent in Glassdoor's list: construction superintendent and electrical engineer were each ranked among those jobs with comparatively fewer opportunities to move forward, at number 22, and 24 respectively. 
"When making any job decision, we know that job seekers consider earning potential, career opportunities, and hiring opportunity — and that's exactly what we look at for this report to determine the top jobs in America for 2016," Chamberlain said.