Richard Blumenthal: Do reports of less-than-truthful statements by politicians affect your vote?
(Read article summary)
Richard Blumenthal, a Democratic Senate candidate running in Connecticut, is facing questions over public statements he's made about his military service during the Vietnam war.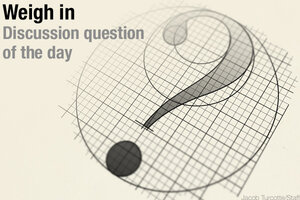 Democratic Senate candidate Richard Blumenthal of Connecticut is taking heat after an article in The New York Times showed discrepancies between his public statements and his military record during the Vietnam war. His campaign manager called the story an "outrageous distortion."
Is this kind of reporting a distraction from more important issues – such as jobs and health care – in the campaign? Or do you think news that potentially speaks to a candidate's character is vital to voters? Which factors are most important to you when you vote?
Share your constructive ideas using the form below.