Best TV show of the past five years?
(Read article summary)
Between 'Lost,' '24,' 'The Office,' and 'The Sopranos,' the past five years has included an amazing range of television series.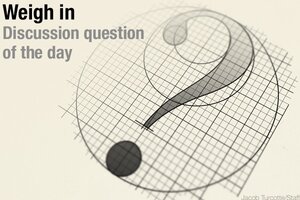 Picking the best TV show from the past five years is no easy task. Think of all the critically acclaimed shows the period includes: "The West Wing," "The Wire," "Gilmore Girls," "House," "CSI," "Mad Men," "Dexter," "American Idol," "Law & Order," and "The Simpsons" – just to name a few. So we'll expand your nominations to a few categories:
Which show best reflected American values?
Which show told the most compelling story?
Which show was the most educational?
Which show featured the wittiest dialogue?
Which show influenced your thinking the most?
Which reality TV show was most inspirational?
Share your picks using the form below.