Results of battles, Wells Fargo consequences, movie controversy, ready for tourism?, drone regulation needed
A roundup of global commentary for the Nov. 7, 2016 weekly magazine.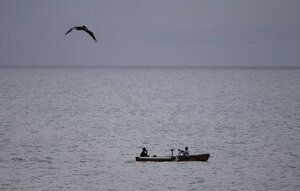 Eduardo Verdugo/AP
Arab News / Jeddah, Saudi Arabia
Results of battles
"There is an important question...: Are these two battles, in Mosul and Aleppo, going to change the situation in Iraq and Syria respectively?" writes Abdulrahman Al-Rashed. "Will the battle in Mosul end the Iraqi war against Daesh? Should we brace for an end to the five-year Syrian civil war? I seriously doubt. The problem of the two countries lies in the nature of the Syrian regime and practices of the Iraqi government. As a result of the continued marginalization and exclusion of certain communities, the cities of Mosul and Aleppo may be cleared of insurgents ... but sooner or later we will hear about them (insurgents) in other cities and provinces. The emergence of militant groups is not a difficult thing under the two regimes, which are incapable of introducing reforms and inclusive policies in the larger interests of their respective countries." 
Business Daily Africa / Nairobi, Kenya
Wells Fargo consequences
"The United States provided yet another wonderful case study in bad corporate governance in the Wells Fargo case...," writes Carol Musyoka. "Wells Fargo Bank was fined $185 million (Sh18.5 billion) by regulators after it was found that more than two million bank accounts and credit cards had been opened or applied for without customers' knowledge or permission.... It is noteworthy that it is not only Kenya that is struggling to get corrupt practices actively prosecuted, especially those perpetuated by 'untouchables.' " 
The Hindu / Chennai, India
Movie controversy
"Representatives from the Film and Television Producers Guild of India Ltd., Maharashtra Navnirman Sena (MNS) chief Raj Thackeray, and Maharashtra Chief Minister Devendra Fadnavis met in Mumbai to resolve a month-long predicament facing film-maker Karan Johar and his soon-to-be-released movie 'Ae Dil Hai Mushkil...,' " writes Sachin Kalbag. "Mukesh Bhatt, the president of the Producers' Guild, announced that a voluntary donation ... would be made to the Army Welfare Fund.... The Guild also agreed to not cast any Pakistani actor in their movies in future.... ['Ae Dil Hai Mushkil'] has a Pakistani actor in a small role at a time when India is attempting to isolate Pakistan diplomatically for state support to terror acts targeted at India.... [Mumbai] has been defined by its various qualities, but three things stand out: it has historically stood for liberal thought, respect for law and order, and embracing newcomers as its own. This openness has been under attack for many years now. And by siding with Mr. Thackeray, the Chief Minister has struck another blow against the city's ethos." 
Jamaica Observer / Kingston, Jamaica
Ready for tourism?
"The proposed development of Kingston as a tourist destination ... is an idea that needs closer examination, even as we strive to identify projects ... that can help us to achieve sustainable economic growth in Jamaica...," states an editorial. "[T]he city has areas of high crime and the safety of tourists could not be guaranteed if they strayed away from the guided tour.... [T]he once magnificent Kingston Harbour ... is polluted.... [I]f we want to be honest, we would have to admit that ... Kingston is not yet developed for Jamaicans, let alone tourists." 
The Toronto Star / Toronto
Drone regulation needed
"Dangerously close encounters – and even collisions – with recreational drones are becoming more common as the unmanned aerial vehicles become more popular," states an editorial. "That's why proposed new regulations for people who fly drones for fun make sense. The proposals won't be published for final public input until 2017, Transport Canada says. But if the proposed regulatory framework that was sent to Transport Minister Marc Garneau in April, and obtained by CBC News, is any indication the new rules will help recreational users straighten up and fly right."