Trump is an 'illusory giant,' Trump goes easy on Asia leaders' human rights records, Why the next major Middle East war will likely be in Lebanon, Is a fresh Rohingya exodus imminent?, US noninvolvement during invasion of Kurdish Iraq was a gift to Iran
A roundup of global commentary for the Nov. 27, 2017 weekly magazine.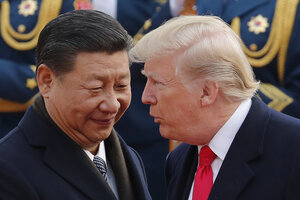 Andy Wong/AP/File
Deutsche Welle / Bonn, Germany
Trump showed China he is an 'illusory giant'
"It is rather unlikely that Chinese President Xi Jinping has ever read German children's books," writes Thomas Latschan. "But if he had, he would certainly know Mr. Tur Tur.... Mr. Tur Tur is an illusory giant: the farther away he is, the larger and more threatening he appears.... Seen from the perspective of ... Xi ... Donald Trump has a lot in common with Mr. Tur Tur. [Mr. Trump's] recent trip to Asia made that clear.... At a safe distance ... Trump ruthlessly attacked Chinese trade policy.... Once [in China], Donald Trump was suddenly timid, praising the Chinese president effusively and displaying his awe for Xi's power...."
The Independent / London
Too flexible on human rights, Trump goes easy on Asia leaders
"Donald Trump was clearly in some difficulty as he sought ... to pull off the so-called 'Asean-way handshake'...," states an editorial. "[T]he move calls for world leaders to both cross and join arms in a sign of unity. A photographer captured the US President grimacing before he finally managed [to do it].... Yet, as Mr Trump [wrapped] up his 11-day tour to Asia ... many have been struck by his ready flexibility to deal with leaders who carry with them questionable human rights records.... [D]id Mr Trump need to say he had a 'great relationship' with a man who has allegedly orchestrated a war against drug users that has led to thousands of extra-judicial killings?"
The Bangkok Post / Bangkok, Thailand
Why the next major Middle East war will likely be in Lebanon
" 'When all the Arabs and the Israelis agree on one thing, people should pay attention. We should stop this Iranian takeover,' said Israel's Prime Minister Benjamin Netanyahu last month. So we're paying attention now, and we even know where the next war will start: Lebanon," writes Gwynne Dyer. "That seems unfair, as Lebanon's last civil war lasted 15 years [and] killed around 200,000 people.... Couldn't they hold this one somewhere else? Unfortunately, no. All the other venues are taken.... The big Shia militia that controls southern Lebanon, Hezbollah, is closely allied to Shia Iran ... so it's a suitable place to start rolling back Iran's regional influence."
The Daily Star / Dhaka, Bangladesh
Is a fresh Rohingya exodus imminent?
"The fact that the United Nations Security Council (UNSC) failed to pass a resolution and handed out merely a statement condemning atrocities committed against the Rohingya people has apparently emboldened the Myanmar security forces," states an editorial. "If what the International Red Cross (IRC) fears comes true, Bangladesh may be facing a fresh exodus of Rohingyas, numbering as many as 200,000 people.... If another 200,000 are pushed out it would virtually fulfil Myanmar's long-term goal to depopulate the Rakhine State of the Rohingya.... The time for proactive action has arrived and the manner in which the Rohingyas have been treated should be [the] subject of inquiry by the international war crimes tribunal at The Hague."
Al Jazeera / Doha, Qatar
US noninvolvement during invasion of Kurdish Iraq was a gift to Iran
"Kurdish aspirations for independence in Iraq faced the obstinate resistance of both regional and international actors which favoured the territorial integrity of Iraq," writes Arzu Yilmaz. "The rationale for their stance was that the independence of Kurdistan would undermine the stability of Iraq.... [But] Iraq's one and only stable region has now been dragged into the persistent and endemic instability of the rest of the country.... Persistence of the international and regional powers' 'one-Iraq' policy has evidently resulted in the emergence of a 'two-Iran' reality in the Middle East.... In light of the US-backed developments in Saudi Arabia that directly target Iran and its allies in the region, it is all the more curious that Washington chose to abandon the Kurds and leave the Iraqi political space wide open to Tehran."