3 views on what the US should do about Iran's nuclear program
Iranian President Mahmoud Ahmadinejad addressed the United Nations General Assembly Wednesday, saying Iran is under a "continued threat by the uncivilized Zionists to resort to military action against our great nation." His relatively toned down speech came a day after strong condemnation of Iran's nuclear ambitions from President Obama at the UN and follows ongoing warnings from Israel's Prime Minister Benjamin Netanyahu.
As the fourth installment of our One Minute Debate series for election 2012, three writers give their brief take on what the United States should do about Iran's nuclear program.
On one side, John Bolton, former US ambassador to the UN, says America should support an attack by Israel. On the other side, Daryl G. Kimball, director of the Arms Control Association, argues for ongoing diplomacy and negotiations with Tehran. Edward Haley, professor at Claremont McKenna College, suggests a "middle way:" containment through deterrence and support for Iran's neighbors.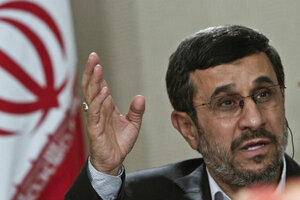 Bebeto Matthews/AP
1.

Support Israeli attack: That will break the nuclear-fuel cycle and buy time for regime change.

Theoretically, years ago, comprehensive economic sanctions – swiftly and relentlessly applied, and rigorously policed with military force as necessary – might have stopped Iran's nuclear weapons program. But such sanctions never existed and never will.

Russia, China, Venezuela, Iraq, and others delight in helping Tehran evade today's patchwork of haphazardly applied, often ignored, and poorly enforced measures. Iran has suffered economically from these Rube Goldberg efforts, but its progress toward nuclear weapons, as even the International Atomic Energy Agency's public information demonstrates, continues essentially unabated.

Tehran is perilously close to achieving nuclear weapons and ballistic missiles for worldwide delivery. It is far too advanced in its entire program for sanctions to stop it now. And because the world's intelligence on Iran is imperfect, Iran may be even closer to a nuclear bomb than we think, especially considering its longstanding cooperation with North Korea, about which we know far less.

Diplomacy and sanctions have failed; believing otherwise objectively enables Iran. There are two possible outcomes.

The most likely is that Iran gets nuclear weapons, bringing the chilling prospect of nuclear holocaust for Israel. A nuclear-armed Iran would also dramatically shift the balance of power in the Middle East, prompting Saudi Arabia, Turkey, Egypt, and others to acquire nuclear capabilities. And it would increase the risk of global nuclear terrorism.

The other possibility is that someone, now most likely Israel, uses force to break Iran's control over the nuclear-fuel cycle, not permanently, but long enough to buy time for the broader objective of finally overthrowing the Tehran regime.

The odds are long, time is short, and the choice is stark. But since a nuclear-armed Iran will change the world forever, America should support an Israeli attack as the least-worst option.

John Bolton, a senior fellow at the American Enterprise Institute, served as US ambassador to the United Nations in 2005-06.