Five tasks for Haiti's new pop-singer president
Michel "Sweet Mickey" Martelly has officially – and finally – been proclaimed president-elect of Haiti, and he is savoring his success – in the United States. His victory tour began Tuesday in Washington, where he is meeting with Secretary of State Hillary Rodham Clinton, along with officials from the World Bank and the International Monetary Fund. Mr. Martelly was finally declared the official winner of the election late last night, more than two weeks after officials from Haiti's Provisional Electoral Council (CEP) announced he had edged out former first lady Mirlande Manigat in a runoff with over 67 percent of the vote.
The wait has been long for Haitians, who first went to the polls last November to elect a president, along with a parliament, carrying high expectations that a new leader could end the long nightmare they have endured since the Jan. 12, 2010 earthquake that ravaged their country – and even before. The battered country's future is now in the hands of the 50-year-old Martelly, a popular singer with little political experience, but who led an impressive campaign.
Martlelly will now have the following five immediate tasks to address: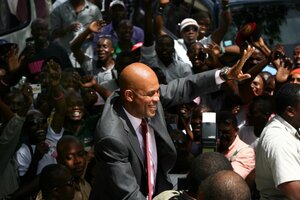 HECTOR RETAMAL/AFP/Getty Images/Newscom
1.

Ensure economic stability

First, the new government must guarantee economic stability and ensure that last month's increase in fuel prices does not have the same devastating impact it did in 2008. Then, high prices at the pumps led to massive violent protests and forced out the prime minister. The preceding Préval administration earlier staved off chaos with fuel subsidies, but those are no longer affordable and were removed last month.

Martelly can increase government revenue by enhancing customs and tax management. He can sort out the money-losing parastatals (state-owned companies) to ensure more investments in education and health, and more assistance for farmers to increase national production.