Long road to freedom: Seven reasons why Syrian protesters have so far failed to topple Assad
Syrian protesters have so far been unable to topple the regime of Syrian President Bashar al-Assad in large part because physical repression has served as a powerful deterrent against their goals. The risk of death, torture, or imprisonment for life can shake even the most resolute, courageous, and determined demonstrator.
Yet physical repression is not the only reason why the protesters have suffered serious setbacks. Middle East expert Bilal Y. Saab of The University of Maryland gives us seven other factors that explain why things might get worse before they get better for the protesters in Syria.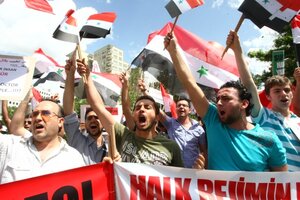 ADEM ALTAN/AFP/Getty Images/Newscom
1.

Weakness and divisions in ranks

The Syrian opposition seems to be growing and learning how to organize more effectively to deliver a more consistent political message to the world. Yet that multi-dimensional effort is still severely lacking. Until the protesters attract more followers (especially from the influential Sunni business community), become truly united, and reach the heart of the capital in large numbers, they are unlikely to succeed in toppling Mr. Assad.