Afghanistan Field Guide: Don't wear sunglasses and eight other essential tips
Planning on going to Afghanistan as a soldier, consultant, diplomat, journalist, or aid worker? Or maybe you're just curious about how a person navigates this war-torn country that's so often in the news?
Journalist Edward Girardet, who has been reporting on Afghanistan for more than 30 years – including for the Monitor – edits "The Essential Field Guide to Afghanistan." Written by on-the-ground experts, it includes essays and travel and security tips that could save a visitor's life.
For instance, don't wear sunglasses. Showing your eyes makes you more human to Afghans. And above all: Remember you are a guest in the country. So act like one.
Here, he gives eight sample "essentials" for getting around Afghanistan.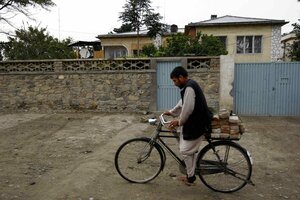 REUTERS/Omar Sobhani
1.

Be met at the airport

The changes at Kabul airport over the past decade have been dramatic. Things actually run quite smoothly now, with luggage arriving on the conveyor belt and a relatively efficient immigration service, all computerized, dealing with your entry.

But you don't want to be standing outside the airport alone. Make sure your guest house or office has sent a car to pick you up. Or catch a ride from one of the Western aid workers or journalists on the plane with you.