Eight ingredients for a peaceful society
What makes for a peaceful society? Hot spots from Congo to the Middle East would benefit from such knowledge. But so would the United States, which, at home, isn't always so harmonious and abroad, is still at war in Afghanistan.
The Institute for Economics and Peace, an international research group, has come up with eight ingredients for more peaceful societies. They're laid out in a report, "Structures of Peace," based on the institute's annual Global Peace Index and more than 300 data sets from around the world. The US does pretty well on five of them, but falls far short on three key ingredients.
Michael Shank, vice president of the institute's US office gives his take on eight ingredients America needs to reap the economic and social benefits of peace.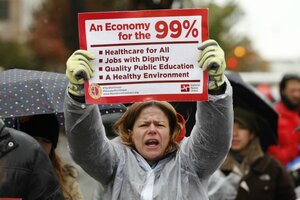 REUTERS/Jose Luis Magana
1.

Government effectiveness

According to the institute's report, "government effectiveness" is measured by quality of public services, civil service, policy formulation and implementation, and the credibility of the government's commitment to policies. The US falls short on all counts.

For example, the American Society of Civil Engineers estimates that more than $2 trillion is needed to fix US bridges, dams, waterways, and wastewater plants. Meanwhile, just 9 percent of Americans approve of how Congress is handling its job – an all-time low. US tax, trade, and labor policy over the last 30 years has largely failed the American people. You see that in the Occupy protests.

The tide is changing however. "Make it in America" is now bipartisan and bicameral and could do wonders for cities once buzzing with manufacturing and industry. The concept of a National Infrastructure Bank for public-private projects is becoming increasingly popular in Washington.