5 reasons US must avoid war with Iran
Americans who beat the war drums by suggesting military strikes and regime change risk dragging this country into a new military calamity in the Middle East, write two former US hostages in Iran, L. Bruce Laingen and John Limbert.
Nine years ago, in the case of Iraq, a similar flood of rhetoric, fear mongering, and distortion overwhelmed good judgment, and led America on a course that defied common sense. It could happen again, this time in a way that could make Iraq look easy.
Writers Laingen and Limbert give five reasons why US officials – particularly President Obama – should ignore the recent cacophony of war talk.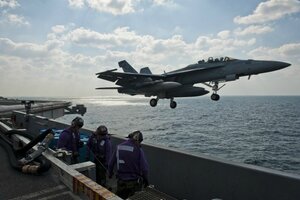 REUTERS/US Navy/Benjamin Crossley/Handout
1.

Iran is chiefly a threat to itself

Tehran's diplomacy has been inept, featuring charm offensives alternating with making gratuitous enemies. It has few friends in its region, beyond tiny, Christian Armenia. Unlike most of its neighbors, it is not Arab, Turkish, or Sunni Muslim, and thus lacks a ready entree into regional affairs. Its support of President Bashir al-Assad's regime in Syria, while understandable from a strategic point of view, has won it few friends in the region.