6 signs of hope in Pakistan
The American imagination can run wild amid Pakistan's political uncertainties and instability. Pakistan has dozens of nuclear bombs. A 2009 Gallup poll showed that nearly 60 percent of the population in this Muslim country believes the United States poses a greater threat than Islamabad's traditional enemy, India (at only 18 percent).
Yet the US is stuck with Pakistan. Washington's worst nightmare – a Taliban-dominated Pakistan – is probably unlikely, but that could change in a nanosecond if an outside power were to meddle in the affairs of the world's second most populous Islamic country.
Any pessimistic view of Pakistan, however, while endemic in the West, differs considerably from the perspective of Pakistani analysts who cautiously point to more optimistic scenarios. They cite six hopeful developments.
Walter Rodgers, a former senior international correspondent for CNN, writes a biweekly column.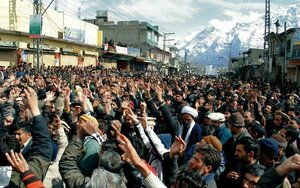 Mohammad Abbas/AP
1.

No military coup d'etat

Despite a weak coalition civilian government, there has been no coup d'état. Shuja Nawaz of the Atlantic Council notes the military has "held back over the last four years, [and is] now gradually stepping back" from the day-to-day political arena.