4 ways Congress can help American businesses
The jobs report for May brought the US unemployment rate up to 8.2 percent. Meanwhile, the number of people not in the labor force – which includes those unemployed Americans who have stopped looking for work after months or years if discouragement – remains near an all-time-high of 88 million. And the Dow Jones Industrial Average is struggling to remain above 12,000. The message is clear: This recovery from the Great Recession is still fragile.
To be fair, some of the reasons are outside the control of American policymakers – chiefly, the persistence of the European sovereign debt crisis. However, the inability to generate sustained growth is also the result of some fundamental weaknesses in the economy that policymakers could be addressing – but aren't.
Recent reforms aimed at revival – like the payroll tax cut, stimulus, and international trade agreements – certainly have brought some benefit. Notwithstanding, they have mostly just nibbled around the edges. Legislators should focus their attention on these four straightforward policy changes that have the potential to rewrite and fix the rules of the game for American commerce.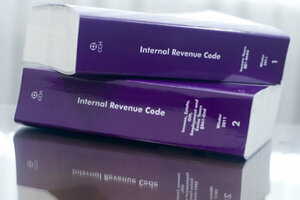 Ann Hermes/The Christian Science Monitor
1.

Cut business taxes

Just talking about changing tax policy will not change anything. Japan recently cut its corporate rate, giving the United States the ignoble distinction of having the highest rate in of all developed countries at just over 39 percent.

A material and immediate cut would likely start drawing businesses back to America's shores. President Obama himself has come out in support of a seven-percentage point drop. As legislators begin deliberating, that ought to be the starting point.