4 ways US and Iran can make nuclear talks work
The Moscow talks on Iran's nuclear program ended in stalemate June 19, as both cynics and optimists anticipated. While low-level experts will meet in July, the next set of sanctions against Iran are scheduled to kick in within weeks, arguably restarting the whole negotiating process. The next time around, the parties should consider broadening their approach in these four ways.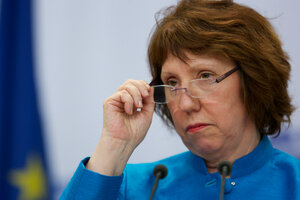 Alexander Zemlianichenko/AP
1.

Better understand assumptions

US-Iranian enmity is not just a matter of differences in goals, but a self-perpetuating institution unto itself. Segments of the Iranian regime retain power by playing the "Great Satan" card. In the United States, promising to attack Iran has been a surefire way of garnering electoral support. The relationship does not fall into the realm of the rational, just the '"rationale."