Five ways GOP can use the Republican National Convention to excite voters
Party nomination conventions aren't what they used to be. In 1852, Democrats cast 49 ballots before nominating Franklin Pierce. The Whigs (there were no Republicans yet) took even longer, selecting Winfield Scott on the 53rd ballot. Don't expect such high drama this year. With the nominees already assured and party leaders marching in lock step, the conventions are likely to be little more than high-tech pep rallies that threaten to be, in the words of Macbeth, full of sound and fury, signifying nothing.
What might the Republicans, who convene in Tampa, Fla., at the end of August, do to excite voters and chart a path to victory? It is enticing to play to the faithful. After all, those are the folks who offer their time, effort, and patriotic headgear to listen to speeches, wave signs, and join the revelry on the convention floor. But party leaders who want to win should also reach out to swing voters.
Disaffected and undecided voters are unlikely to follow gavel-to-gavel coverage of either convention, but the images, themes, and sound bites generated there will set the tone for the rest of the election season. Party leaders need to send the right message. Here are five suggestions for the GOP ahead of the Republican National Convention Aug. 27-30.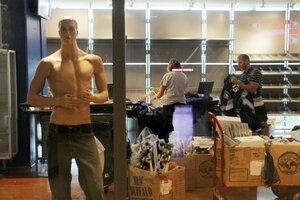 Edmund D. Fountain/The Tampa Bay Times/AP
1.

Rally the troops

Remind them that every vote counts. Successful conventions generate sufficient hope and enthusiasm to enlist armies of grassroots volunteers and energize the base to get out and vote.

In a June Gallup poll, a majority of swing-state Republicans said they were extremely or very enthusiastic about voting in November. Ride that wave and build even more enthusiasm for the months ahead. Party leaders can't afford for committed Republicans to stay home in November.