8 steps to US energy security
American leaders have been talking about energy security since the 1973 Arab oil embargo made energy a national security issue, but the United States still lacks a comprehensive energy policy. Recent scientific studies show that the hot weather in the US of the past decade is not cyclical but related to the burning of fossil fuels. Such findings on climate change make such a policy more vital and urgent.
Sure, the Obama administration has made strides on the energy front, especially by spearheading higher fuel efficiency standards for the American vehicle fleet. But if Americans are serious about making energy security a moon shot for this generation, the president and Congress must create an integrated rather than piecemeal approach for meeting this goal.
Here's a plan to consider.
– Steve Yetiv, August 15, 2012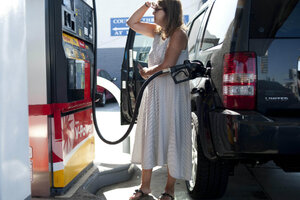 Grant Hindsley/AP
1.

Gradually tax carbon and reduce other taxes

If carbon pollution continues to carry no cost, the market will be hampered in going green. That's why America needs to increase the gas tax. Of course, many people object, saying that taxes hurt economic growth. But there's no reason taxes can't be fully or partly "revenue neutral" – offset by cuts in the payroll tax, for instance. That's not an overall tax increase, though individual states might want to tax gas for revenue generation as well.