4 ways to prevent natural disasters from becoming human tragedies
The National Oceanic and Atmospheric Administration (NOAA) recently reported that the past 12 months have been the warmest the United States has ever experienced. Another NOAA report confirmed what has become increasingly obvious: Climate change is the likely culprit. This summer's extreme heat has sparked wildfires in states like Colorado. And the American heartland is parched, suffering the worst drought in 50 years; the loss of crops is predicted to drive food prices up nationally this fall.
At the same time, in other parts of the world, climate change is engendering famine and destroying livelihoods. In just the past year, floods devastated Thailand and famine struck East Africa; The current food crisis has put some 18 million people in Africa's Sahel region at risk of starvation. And extreme weather will likely worsen in the next few years, according to recent reports from the Intergovernmental Panel on Climate Change.
But the catastrophic impact of climate change – especially on the developing world – is not inevitable. Here are four cutting-edge tools to anticipate and minimize the damage from natural disasters.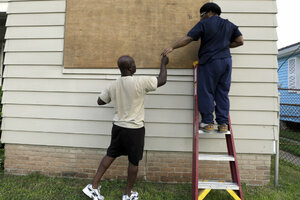 David J. Phillip/AP
1.

Early warning systems for famines

With sophisticated early warning systems, we can see the first signs of oncoming famine almost a year ahead of time. However, these early warnings are only helpful if they lead to early action. For instance, a joint report by Save the Children and Oxfam regarding the famine in Somalia, Kenya, and Ethiopia pointed out that early action could have avoided as many as 100,000 deaths, more than half of which were among children under five.

Not only do early interventions save more lives, they are also more cost-effective. One study in northern Kenya found that it was three times more expensive to restock a core herd than to keep animals alive through supplementary feeding. And in the Afar region of Ethiopia, restocking sheep and goats costs at least six times more than supplementary feeding. Restocking cattle costs 14 times more.