6 things Obama must do at the Democratic National Convention
Political scientists have devoted more than half a century to the study of voters casting ballots based on a candidate's past performance – a practice called "retrospective voting." Those who are satisfied with the country's direction vote for the incumbent's party; those who want change vote against it.
Retrospective voting worked well for Barack Obama in 2008. Many Americans looked back on the previous eight years of a Republican White House and demanded something new. In a time of war and economic despair, Mr. Obama offered the hope and change voters craved. But the electoral tables have turned. Now the voting theory that propelled Obama into office threatens to make him a one-term president.
One in 3 potential voters surveyed by Gallup in June cited Obama's job performance as the most important factor influencing his or her presidential vote; 28 percent mentioned economic issues, more than double the percentages in 2004 and 2008. These and other data suggest that many voters will view the 2012 election as a referendum on the Obama presidency, so party leaders need to be ready with their defense.
This week, Democrats convene for the Democratic National Convention in Charlotte, N.C., where San Antonio Mayor Julian Castro and First Lady Michelle Obama will headline the conference tonight. Here are six things Democrats and Obama can do at the convention if they want to secure victory over Mitt Romney and the GOP in November.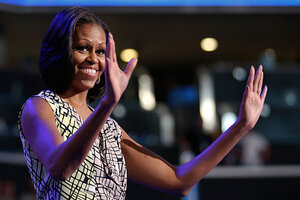 Jae C. Hong/AP
1.

Generate enthusiasm for November

Obama's lack of a primary challenge saved him from party infighting, but it also kept the focus away from Democrats. Now is the time to reconnect, rally the base, and build excitement.

When asked in 2008 if they were "more enthusiastic about voting than usual," Democrats had a 26-point advantage over Republicans; Democrats now have a 12-point enthusiasm deficit, according to Gallup.