4 smart ways to rebuild after superstorm Sandy
Early estimates of the damage from hurricane Sandy are staggering. More than 100 people lost their lives in the Caribbean and the United States, more than a million homes and businesses are still without power on the East Coast, long lines persist at gas stations, and the economic toll could reach $50 billion.
Right now, all eyes are turned toward relief efforts. Government agencies and aid organizations must be singularly focused helping the people and communities whose lives and property were devastated by the storm, especially as a Nor'Easter bears down on New York and New Jersey, and 30,000 to 40,000 people remain homeless.
But in the days ahead, once people's immediate needs are met, we must focus on another important question: How can we better protect our vulnerable coastal communities from future storms?
While no amount of infrastructure and preparation can fully protect us from a devastating superstorm like Sandy, it is increasingly clear that rebuilding efforts must consider the following four points.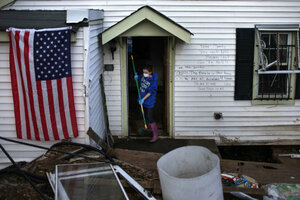 Adrees Latif/Reuters
1.

Reduce carbon pollution

There is an urgent need to reduce the carbon pollution that is affecting Earth's climate. Storms, floods, and other natural hazards will only worsen as our changing climate increases the probability of extreme weather events. While no single weather event can be tied conclusively to global warming, most scientists agree that rising temperatures are contributing to a pattern of longer and more frequent heat waves and droughts, and more intense storms.

Add sea-level rise to the picture and the outlook grows even worse. If we don't take steps right now to reduce the rate of climate change, other measures to lessen the impacts of recurring disasters will become either ineffective or impossibly expensive.