6 ways President Obama and Congress can avoid the 'fiscal cliff'
Republican congressional leaders and President Obama sharply disagree over how to deal with the impending "fiscal cliff." Negotiations among Democratic and GOP lawmakers will be tough. But averting the cliff and putting the nation on a sustainable fiscal course shouldn't be that hard.
A reasonable framework could be agreed to now, with the details worked out in 2013. Such a scenario includes a balance of spending cuts and new revenues, most of which are consistent with the recommendations of a variety of bipartisan groups and priorities articulated in the recent election.
Here are six ways Washington can avoid the "fiscal cliff."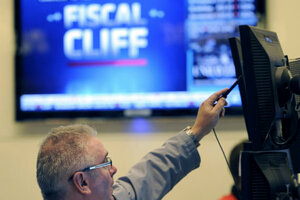 Henny Ray Abrams/AP
1.

Extend all tax cuts except those for millionaires

President Obama and Congress must first extend all of the Bush-era tax cuts except those affecting millionaires. Individuals and small businesses with annual incomes of more than $1 million can afford to pay a little more.

Those with incomes above $250,000 can also afford to pay a little more, but Mr. Obama should be willing to extend their tax breaks. Compromise demands a little give here on a Republican priority. Democrats will like that the truly wealthy will be required to pay higher taxes, while Republicans should like the fact that most of the Bush tax cuts are extended.