4 ways to get phone service the next time a hurricane Sandy calls
In the aftermath of a disaster such as superstorm Sandy, two-way communication is essential. People need to be able to receive news and updates, and to request assistance and provide status updates to loved ones.
Yet after hurricane Sandy, large portions of New York, New Jersey, and other areas lost their communication systems – their mobile phone network, cable TV, and Internet. Some sought out the last few pay phones as the only equipment that worked.
Here are four ways to better prepare our phones and other devices for the next disaster: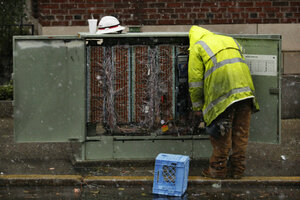 Eduardo Munoz/Reuters
1.

Aim for a resilient power supply

Above all, America's telecommunications system depends on the electric grid. It is possible to protect the grid by burying power lines and creating alternate lines of supply. The cost of this should be balanced with the benefits of improved reliability and safety.

Alternatively, we could place permanent backup generators at each cell site, effectively isolating them from the power grid. But that just changes the nature of the challenge to one of distributing fuel to the site's generators. As we saw in the aftermath of Sandy, even procuring fuel can be difficult after a disaster.

The aim should not be to fully counter each situation, but to focus instead on making the communications system more resilient. We need to take steps that would make the communications system capable of operating at a predetermined level of usefulness even in the face of some loss of capacity.